Monday, June 4th, 2007
---
2:17 pm
- Our new yarn!
The ladies of Portland Super Crafty are beyond excited to announce that Vickie Howell named one of her brand-new yarns in the CRAFT line after us! It was so sweet of her to think of us, and she gave us such a gorgeous color, too -- very superhero-y. Her CRAFT yarns are all 35% milk fiber/65% organic cotton, perfect for warm-weather knitting. The new colors premiere this summer, we can't wait.




the first Super Crafty swatch, knit up by Vickie herself!

In the meantime, there is a lot of cool crafty stuff going on in Portland over the next week -- here's a heads up:

PDX Super Crafty is teaching two more free craft classes at the library in the next few days, please mark your calendars and come hang out with us! Register for any of them online or by calling the library at 503.988.5234.

Hollywood, June 5, 6-7:30 p.m.: shrines
Rockwood, June 6, 6-7:30 p.m.: paper and fabric jewelry

We had a great time at the Northwest library craft-in last Sunday (after stopping by the big crafty swap, of course). People made all kinds of amazing matchbox shrines! We were really wowed. Torie made a special one for her grandfather's birthday, and I put this monkey shrine together for a certain nephew of mine:




It was so fun -- thanks again to the <a href="http://www.multcolib.org/">Multnomah County Library</a> for being so crafty, and generously hosting us.

Oh, and don't forget that Crafty Wonderland is coming up this Sunday, too! The free craft at the DIY table is decorate-your-own can cozies for Father's Day, don't miss it.




-posted by Susan
Sunday, February 18th, 2007
---
11:26 am
- Paper Craft Kit
At a recent family gathering my step-brother's wife, Nani, and I got crafty with Chronicle's Paper Craft Kit, a super cute kit for making beautiful paper creations written by Sidd Murray-Clark.



The kit comes in a sturdy box with almost everything you need to make an array of fun things out of paper. The instructions are clear and easy to follow – it even recommends which of the stylish printed paper to use for which project. You can certainly choose your own paper if you like, but if you use the recommended style, the pattern is already printed on the back of the paper! All you need to do is cut it out and follow the instructions for assembly. The kit also includes templates or patterns for each project so you can make it again and again.



Nani decided to make the wallet (page 25). She was a little apprehensive at first, claiming to be "not crafty", but you wouldn't have known it once she got started. Her paper wallet turned out just perfectly! I wanted to try the paper box (page 49), which looked great for wrapping a sweet little gift inside. It was fun and easy to do -- a great instant-gratification project!

This kit is a great introduction to paper crafting -- especially since the last time I tried folding paper (following origami patterns) it ended in frustration (and probably a few choice words). I can't wait to make that fantastic garland on page 37!

Torie
Saturday, January 27th, 2007
---
2:46 pm
- Winter Knits
I first learned how to knit in 2000 (the same year I learned how to sew with a machine, discovered getcrafty.com, and started my handmade business). And in the ensuing six (seven? wow!) years I've always knitted a little bit here and there, but almost always in the cold months -- I think the pig cellphone cozy is the only warm-weather project I've ever pulled off successfully.




Here's a picture of the first thing I ever knitted, a striped brown-and-blue acrylic scarf as a Christmas present for my brother David. I remember it so well! I started it in the fall on size 7 needles, didn't like how tight it was knitting up, switched to 9s along the way, and kept going on that thing like there was no tomorrow. But since it was my very first project, I couldn't decide how long to make it. So when I saw him at Christmas, I decided to skip the surprise -- I went ahead and showed it to him in progress so he could try it on and pick just the right length himself. It was such a triumphant feeling to bind it off and hand it over, and he wore it all winter. Success!

So since this is my favorite time of year to knit, I was excited to get the Winter Knits kit (written by Sara Lucas and Alison Isaacs) and try my hand at a few things -- especially these felted star Christmas ornaments, which are quick and easy to make. The 25 projects are a nice mix of gift-y things (like baby booties, Christmas stockings, and a patterned cosmetics bag) and things to wear (like hats, scarves, and adorable fingerless gloves), with a nod to all skill levels. When I get my knitting confidence up, I definitely want to make the gorgeous modern throw pillow, a simple and stylish piece with one huge circle of contrast color on each side.




And I love the little instructional booklet, which is the perfect size to throw in your craft bag and bring along -- it's the perfect mini-reference if you're an infrequent/permanent beginner knitter, like me, and need a little reminder of the stitches and techniques you haven't used in awhile. The sleek little box also has a pair of circular needles, a skein of yarn, stitch markers, and a yarn needle tucked inside, and each project is printed on a colorful card for easy reference. And the photographs are extra-beautiful, a very nice touch.

If you want to check out some other reviews from more experienced knitters, Natalie and Stacy both liked it a lot too -- Stacy also has pictures of the baby booties she made in red, which I thought were adorable!

Look for a few other reviews of craft books and kits we really like in the next little while, too. Do you have any favorites to recommend?

--posted by Susan
Thursday, November 30th, 2006
---
10:57 am
- Super Crafty holiday update!
hello!

We've been so busy the last few months that time has just been flying by! But now that December is just around the corner, we wanted to tell you about some cool events we have planned, and let you know what else we've been up to lately in PDX Super Crafty world.

If you're looking for just the thing for your crafty best friend or Secret Santa at work, why not pick up a signed copy of Super Crafty? It makes a great holiday gift... or you can use it to make all of your own presents this year! We were so excited that CRAFT picked us for their Amazon holiday gift guide!



And if you've been making cool crafty projects inspired by our book, please add your pictures to our Super Crafty flickr pool! We love these magnets and cards by Jeannie Majewski.



Here's where we'll be all month...

This weekend, Dec. 2 and 3, we'll have a table at Urban Craft Uprising in Seattle (Saturday and Sunday, 11-5, at the Seattle Center), right next to Monsieur T.. Come by and say hi--it should be a great sale.

On December 10, Torie, Cathy, and Rachel will be selling at Torie and Cathy's fabulous monthly sale in Portland, Crafty Wonderland (Sundays, Dec. 10 and 17, 11-4, at Doug Fir Lounge). Go both weeks to try two different free crafts at the DIY Table (shadow puppets and snow globes)... plus you can win amazing handmade raffle prizes, and all the proceeds benefit the Goose Hollow Shelter. While you're out and about, be sure to stop by Handmade Bazaar
(Sundays, Dec. 10 and 17, 12-5, at the Wonder Ballroom)--make a day of it and go to both sales.

And here's some of what we've been up to lately...

Torie has a brand-new website with lots of pretty new jewelry, accessories, and art pieces. She's also been helping her husband Quentin with his Monsieur T. t-shirt line--one-stop shopping for all the boys and girls on your list!



Cathy has been going crazy with her Gocco, and she's made lots of printed skirts, and vintage sweaters that are printed and embellished with stitching. Her designs include birds, skull and crossbones, deer, and a lady bowler--they're so new that she hasn't even had a chance to get them up on her site, but she'll have them at all the upcoming sales. You can also email her if you're interested (bossanovababy2@yahoo.com), or look for them after the holidays online!



Rachel has a huge new fall/holiday jewelry line with tons of vintage pin-up-meets-glamour-gal flair! Check out her site to see it all or find a list of stores in your area. She's been keeping busy designing away and hanging out with her adorable Little E.!



As for me, I've been doing lots of writing lately--I just started a new West Coast Crafty blog that's been a lot of fun! I just contributed a feature, "The New Craft Night," to Adorn, and designed a holiday card for Cutting Edge. I've also recently added a few new fabrics to choose from for my skirt kits. You can find them on my site and at Bingo's Craft Emporium in Los Angeles all next month, or online at Plain Mabel and My My.



So, we hope to see you out and about this month! Looking towards 2007, we'll keep you posted about some cool classes we'll be teaching at DIY Lounge, plus we'll be running a Super Crafty alteration station at Swap-O-Rama-Rama on February 4. And we have three fun, free craft-ons scheduled at the library in Portland in February too! More info on all these early in the new year. Stay crafty!

--posted by Susan

p.s. I almost forgot--we've been testing out some great crafty kits from Chronicle Books, and we'll be posting our reviews in the next few weeks! Look for the first one, Winter Knits Kit, in the next couple of days.
Friday, July 7th, 2006
---
10:34 am
- crafty wonderland this weekend!
This Sunday is Crafty Wonderland at Doug Fir Lounge! Come browse for cool handmade stuff from 40+ vendors (here's the list) and try your hand at embroidering the tablecloth Contemporary Crafts Museum has been circulating all summer! Crafty Wonderland is free and all ages, as always.

On the evening of the 13th, we'll be at Second Thursday on Hawthorne in front of Presents of Mind (at 37th). You can get a signed copy of our book, or stop by to make mini-shrines at our free mini-workshop--we'll have all the supplies there.

In other Super Crafty news, we just found out that we got into Renegade Craft Fair Chicago--hooray! We had such a great time at the RCF in Brooklyn last month! Have you heard about the Indie Craft Documentary that Faythe Levine and Micaela O'Herlihy are making?




We had a chance to do an interview with them at our Renegade booth, which was a blast. They're traveling coast to coast to film lots more crafters and events--check out their blog for more info. And stop by their etsy shop to find lots of cool handmade goodies for sale (including a signed copy of Super Crafty!)--all sales benefit the film.

Hope to see you this weekend :)
Thursday, April 27th, 2006
---
9:52 pm
- fun weekend stuff coming up!
If you're in Portland, get ready for some fun things going on in the next few days...

On Saturday afternoon from 12-4, Torie, Cathy, Monsieur T. and Susan will be selling at Happy Hands Market at Oregon Stamp Society (4828 NE 33rd Ave. & Alberta Ct.). Come shop for handmade clothes, jewelry and accessories, plus signed copies of Super Crafty!

This weekend is also the one and only PDX Film Festival at the Guild Theater (829 SW 9th Ave.). Here's the full schedule, but we especially recommend the Invitationals at 9 pm Saturday night. Our fellow crafter Vladimir will be defending her title as two-time World Champion of Experimental Film, and there will be a bingo game with susanstars jewelry, Vladmasters, and Stumptown Coffee among the fabulous prizes! Don't miss it!

Our friend Carye Bye is hosting the third annual Pretty Dress Bike Ride on Sunday, May 7--here are all the details!

Pretty Dress Ride (III)
Sunday, May 7, 2006
2 pm (length: 2 - 2.5 hours, easy social bike ride, route - a mystery)
Start: Tanner Springs Park (NW 10th & Marshall) - Just off Broadway Bridge, 2 or 3 blocks N from Jamison Park
What: It's Spring, and biking in a pretty dress feels oh so good!  We'll ride around leisurely, parading our pretty dresses, stopping for afternoon tea or dessert (bring $). Everyone welcome: But you must wear a pretty dress. Raining? Sorry, ride will be cancelled because riding in a wet pretty dress just isn't so fun.

Did you make it to the first Crafty Wonderland? It was super fun--the DIY shrine-making table was busy all day, and there were handmade journals, jewelry, clothes, cards, and even homemade candy for sale--here are some photos! The May 14 Mother's Day sale vendors list is up, and there's still time to apply for the June 11 show.

Hope to see you!

--posted by Susan
Saturday, April 8th, 2006
---
6:53 pm
- Come see us at Crafty Wonderland!
All four PDX Super Crafty members will be selling our wares Sunday, April 9th at the first ever Crafty Wonderland! Come say hi and check out cool handmade items and art from 40 different vendors.


Tuesday, January 10th, 2006
---
11:22 am
- how cool!
Super Crafty is mentioned alongside Sleater-Kinney, the Decemberists, the Shins, and Miranda July in this new article, Portland, Oregon: The New Coolest City in the World!

Here's our section:

Crafting in Portland has a long history, and actually started with the Arts and Crafts movement of the early 20th century (made famous by such notable Edwardian hipsters as William Morris - who was not from Portland). At the Oregon College of Arts and Crafts (OCAC) you can actually get your Masters degree in crafting. Four local Portland-based professional crafters recently got together and wrote a craft-project-filled book called (appropriately enough) Super Crafty about this latest, post-modern, crafting movement. It can be found at their website: http://www.pdxsupercrafty.com/.

- - - - - - - - - - - - - - - - - - - - - - - - - - - - - - - -

Torie and Cathy are going to be interviewed for KBOO radio (90.7 fm in Portland) in the next few weeks as well--stay tuned for more info!

In crafty news, here are a few spin-off pieces inspired by the book projects we put together:

Inspired by the Whale of a Pillow, I made this whale of a skirt:



And I made a new PDX Knitting Needle Organizer, too:



--posted by Susan
Sunday, December 18th, 2005
---
7:08 pm
- PDX Super Crafty in the Oregonian and on CraftyPod!
Today's paper has a fantastic article on crafty business in Portland, and we're featured, along with other Portland superstars like Knot Ugly, Nedra Made It, and Handmade Bazaar!

Here's an excerpt to check out:

PORTLAND'S HANDMADE REVOLUTION
by SU-JIN YIM

Onstage, a '70s-era game-show host lookalike is giving away raffle prizes as a trio of eager, happy girls smiles into the dimly lit audience of the club in Portland's inner eastside. In the corner, more than a dozen young women crowd around a table filled with feathers, paper and other materials for a pasties-making workshop. It would all be so apropos for the era the faux host's clothes represent -- men in turtlenecks, women as decor -- if the women weren't the ones in charge.

Together, Torie Nguyen, Cathy Pitters, Susan Beal and Rachel O'Rourke are PDX Super Crafty, a local collective of crafters who make their goods by hand. On this night, they have called together more than 300 partiers to Doug Fir Lounge to help them celebrate the release of their new how-to book, "Super Crafty: Saving the World From Mass Production."

In the audience are knitters, jewelry makers, seamstresses and more who are part of a growing culture nationwide of young crafters reviving old skills that went out of style decades ago. (Kind of like the faux host's clothes.) But with classes called the "Anarchist's Guide to Sewing" and another about pasties, this is definitely not your grandmother's arts and crafts.

Instead, this new generation of crafters is creating an alternate economy mixing capitalist ideas with community ideals that embrace once-rejected "women's work" as not only valuable, but hip. These handmade goods reflect not only artistry but community values of recycling, individualism and small business that bring Portland nationwide recognition.

Propelled by twenty- and thirtysomethings rebelling against the Wal-Martization of America and laboring under the idea that self-sufficiency is vital, this movement finds its deepest roots in smaller, independent-minded, affordable locales like Portland, Olympia and Austin, Texas, where craft nights regularly take over bars and clubs.

In Portland, "you meet somebody walking down the street who admires your necklace and you start talking and realize they've knit something you bought," says Beal, who lives part time in Los Angeles.

To be sure, handmade purses and Shrinky Dinks heart pendants don't match everyone's taste. The style can tend toward the casual, even impish. You could surely find cheaper baubles or accessories at Target.

But then it would be one of millions, not one of a kind, a style aesthetic important to this group.

....

The stakes are lower in a city with affordable materials and a lower cost of living, Beal says. "There's still room to develop your business as an indie person instead of a bottom-line profit person," she says. "In Portland, people are actually very excited and interested in supporting handmade."

For many crafters, the value in making items by hand goes beyond the product itself into political and emotional realms. Diane Gilleland, who started the local Church of Craft chapter and hosts a crafting podcast, says people find it easier to connect with each other when their hands are busy creating.

"You're engaging the surface level of your brain and doing something you love," she says. "It allows you to be your true self and not the mask self a lot of us are when we go into social situations."

- - - - - - - - - - - - - - - - - - - - - - -

And the fabulous aforementioned Sister Diane just put up her new podcast--an interview with the girls of Super Crafty!
Monday, December 5th, 2005
---
11:55 am
We've been teaching some fun craft classes at our beloved DIY Lounge--shrink art, bath and beauty treats, and how to run your own business. Check out their upcoming classes--they're hosting everything DIY, from crochet and stencil to poker and rock & roll keyboards!

If you want to see some pictures from our book events (and a mini-tutorial on making yourself a necklace), check out Susan's new getcrafty column on our shrink parties!




We also got an amazing review in the new Venus--you can see it here on our site. Susan also has an article on running your own handmade business, complete with a cute picture of Torie and Cathy selling at Renegade Craft Fair!

Yay!
Saturday, November 12th, 2005
---
1:36 pm
We've had such a fun time doing our book events in Portland and Seattle! Thanks to everyone who's come out to make shrink art jewelry or pasties with us :) We'll be posting pics on the website soon too. Coming up, we have some great holiday sales and parties planned--stop by Riches at Rimsky's if you're in Portland on Dec. 4. We'll have signed copies of Super Crafty for sale, along with lots of cool handmade gifts.

Oh, and check out Susan's new column on getcrafty.com, about the four episodes we filmed of the new crafty sewing show Uncommon Threads! You can also get a sneak peek at the projects we demo-ed on the show, which will start airing in March.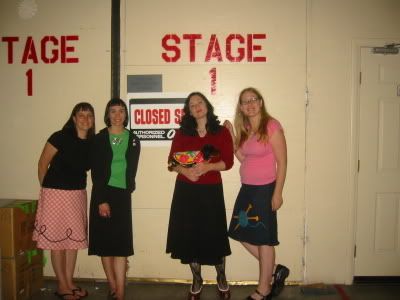 Here are some cool new mentions of Super Crafty, too:

Dioramarama!

11th hour gift suggestions

Three Peas

Willamette Week's gift guide

--posted by Susan
Wednesday, October 19th, 2005
---
11:16 am
- awesome PDX Super Crafty eBay auctions!
woo hoo! Our party last night was so much fun. We signed tons of books and gave thirty wonderful prizes away! Thank you to our lovely bands, volunteers, friends, prize donors, and everyone who came out to celebrate our new book!! It was awesome to see so many people making their own pasties, winning the fabulous raffle goodies, and enjoying glittertinis. We'll post plenty of pictures soon...

We also put up some pretty amazing one-time-only PDX Super Crafty stuff on eBay! Our party host AC Dickson posted them yesterday afternoon.

Make your own holiday gifts at a swanky PDX Super Crafty party!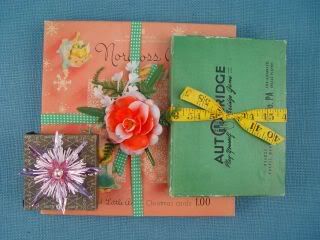 How about a crafty starter kit with vintage ball fringe, beads, buttons, cool fabric and more, all in a super cute vintage hatbox?

We're auctioning off this stylish sewing machine handbag, matching t-shirt, and a make-your-own denim skirt kit with DIY applique for the girl who loves sewing.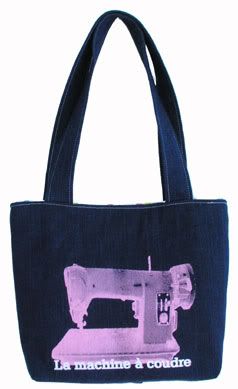 We also put together gorgeous sparrow jewelry, a belt buckle, brooches, and DIY appliques for one lucky bird lover.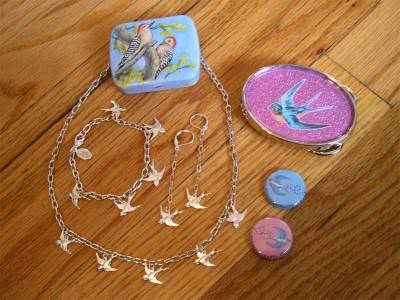 Here's a signed Super Crafty book, t-shirt, tote bag, and goodie package...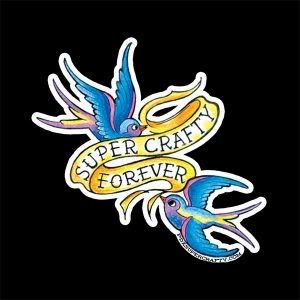 ...and here's a Super Crafty Mystery Package, you won't even believe all the cool stuff inside!



You have until next Friday afternoon, October 28, to bid on your favorites! :) Tell your crafty friends, too...

--posted by Susan
Monday, October 17th, 2005
---
2:32 pm
- PDX Super Crafty all over the place!
We've gotten some fun write-ups lately about the the book and our collective.

People are getting excited about the party tomorrow night! Check out this cool interview with all four of us in the the Portland Mercury. We also ended up getting featured on the Portland Picks site and newsletter and on Ultra PDX.

And last month the Urban Socialite gave us a little post-Renegade shout-out.

Thanks so much to everyone who's helping us get the word out about our book and cool crafty events!

Speaking of events... after our big party tomorrow night, we have some more fun things coming up. Mark your calendars now!

On October 27 (Last Thursday), we're partnering with Frock and the DIY Lounge for a pastie-making book party!




During the first week of November, we're having an art opening/craft-on/book signing at In Other Words Bookstore. Make yourself some kick-ass shrink art jewelry! More details on time and date to come ASAP.

Then we head north to Seattle!

On Sunday, November 6, Torie and Susan will be selling at Urban Craft Uprising, while Cathy and Rachel will represent at Rummage. Both sales will have a full selection of super cool handmade art and craft from all four of us, plus signed books. Come by and say hi!

Then on Monday, November 7, we'll be doing another fun shrink-art craft event at Queen Anne Books.

On First Thursday, December 1, we're throwing an awesome crafty get-together at Reading Frenzy to kick off their month-long Cheap Art Bazaar! We'll demo projects from the book and display some of our favorites in the store through December. Get ideas for making all of your holiday presents this year!

We'd love to see you at some of our parties--please stop by!

--posted by Susan
Saturday, October 8th, 2005
---
11:17 am
- come to our party!
We're throwing a book release party on Tuesday, October 18 at Doug Fir in Portland, and you're invited!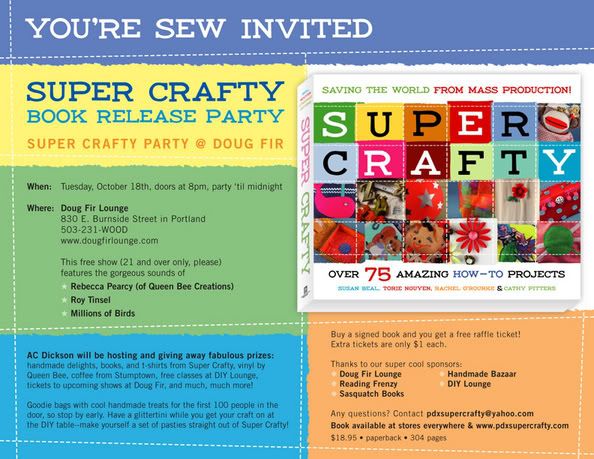 It's hosted by AC Dickson, with music by Rebecca Pearcy, Roy Tinsel, and Millions of Birds. DIY Lounge and Handmade Bazaar are helping us run the coolest DIY table ever. You can make your very own pasties! We'll have signed books for sale and show off some of our favorite handmade projects, too.

Plus, we're giving away *tons* of cool handmade raffle prizes, including signed Super Crafty books and t-shirts, Queen Bee vinyl, Stumptown coffee, DIY Lounge classes, Frock gift certificates, and so much more!

best of all, it's a free show! 21+ only, please.

Stay tuned for more info on our next event at Frock on Last Thursday, October 27, too.

Hope to see you for a glittertini!

--posted by Susan
Saturday, October 1st, 2005
---
11:07 am
- big website update!
Friday, September 30th, 2005
---
10:40 am
- Renegade recap!
Cathy and Torie just got back from a super fun week in Chicago! They represented PDX Super Crafty at Renegade Craft Fair, among the hundreds of amazing crafters and indie designers there.

Doesn't our booth look cute?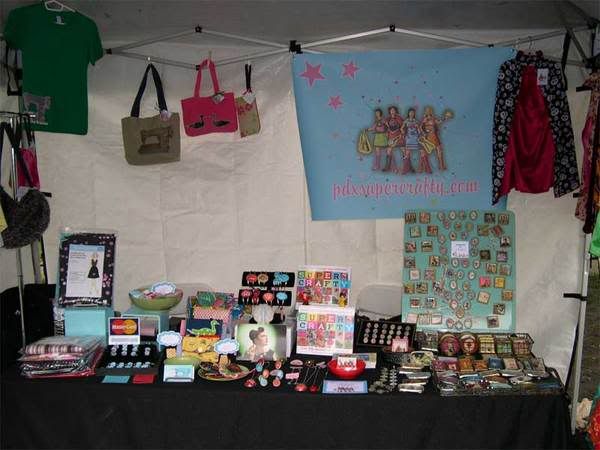 Even though it was crazy muddy, those awesome Chicago crafty types still came out to shop!




And we ended up selling lots of signed copies of our brand-new craft book, Super Crafty. Cathy's new skirts, Torie's handbags, Rachel's heart jewelry and my brand-new make-your-own skirt kits were favorites too.

All four of us are hoping to make it to the next one!

--posted by Susan